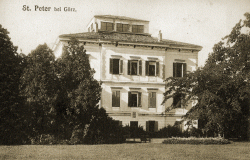 The Šempeter-Vrtojba Municipality, the Goriški Museum and the Association of Ladies and Girls of Šempeter created a permanent exhibition at the Coronini Mansion, commemorating the Coronini von Cronbergs of Šempeter. From the time it was built in the 17th century until it was sold in the 1930s, the mansion served as the family's home, and today it serves as the Municipal Hall. Between 2005, when it was purchased by the Municipality, and 2009, the central part of the mansion's foyer, grand staircase and ballroom were renovated, restoring their 1930s look. It houses the municipal administration offices and municipal council chambers, while there is also a a permanent exhibition area dedicated to the Šempeter Coronini von Cromberg noble family on the first floor.
The exhibition was produced by Katarina Brešan in collaboration with colleagues from the Goriški museum and the Association of Ladies and Girls of Šempeter, while the material she selected and presented comes from the collections of the Nova Gorica Regional Archives, Gorizia State Archives (Archivio di Stato di Gorizia, Italy), Gorizia Provincial Archives (Archivio Storico Provinicale di Gorizia, Italy), Gorizia Provincial Museum (Musei Provinciali di Gorizia, Italy), while some exhibits are property of the Association of Ladies and Girls of Šempeter.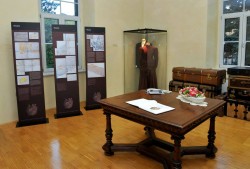 The exhibition recounts the history of the Coronini family with a special focus on two of its most famous personalities, the emperor's educator
Johann Baptist Coronini
(1794-1880) and his son, the mayor of Šempeter,
Franz Karl
(1833-1901). It also describes the history of the Šempeter Mansion and certain other villas the family owned. The exhibition also highlights the family's land estates in Šempeter and the surrounding areas. Certain objects and garments contributed by members of the Association of Ladies and Girls of Šempeter are also on display. Also displayed are the replicas of garments worn by Franz Coronini and his wife, Selma Cristalnigg. In addition, the exhibition shows photographs of family members and the mansion, reproductions of maps of the land estates, facsimiles of property management documents, and renovation plans after World War I.
The Coronini family relocated to Gorizia from the Bergamo area in late 15th or early 16th century. The Šempeter branch was allegedly started by Alexius Coronini (1580-1679), who was promoted to the title of Baron von Oelberg in 1656. The comital title of von Cronberg was given to the family in 1687. Up until World War I, they owned extensive property. In 1930 they sold the mansion to the Italian military aviation and moved to the nearby Mafejšče mansion, from where they moved to Gorizia in 1947, into a newer villa, which is still owned by the family today.