Sport and Recreation

There are quite a few natural alternatives for recreation in and around the municipality. So, this is an ideal location for spending free time outdoors in the Goriška region. In its close proximity, there are numerous sports and other facilities where you can spend your holidays actively. You can play golf or go cycling, paragliding, bungee jumping, kayaking, canoeing, rafting, hiking, bowling, fishing, hunting, etc.

Outdoor sport and recreational areas and apparatus in the Šempeter-Vrtojba region:

a gymnasium, handball and basketball courts in the grounds of the primary school in Šempeter pri Gorici, a multi-purpose court in the grounds of the subsidiary primary school in Vrtojba. These facilities are used for curricular activities during school hours. However, they are available for the use of clubs and societies as well as the local residents at all other times,


Šempeter Sports park,
the woodland nature trail on St. Ot,
footpaths and cycle paths on the Vrtojba-Bilje knolls,
numerous children's playgrounds and other recreational facilities.
Sightseeing points
There are two prominent sightseeing points – namely St. Mark's hill above Šempeter, where there is also a pleasant restaurant with the same name "Mark", and St. Ot's knoll, where the beautiful viewing platform looks out over the wooded area of the Vrtojba-Bilje knolls. Also running through this area is the interesting circular trail.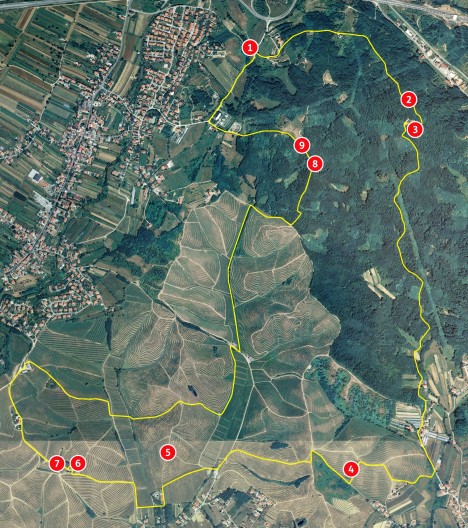 ---
This wooded area, with its numerous paths, offers visitors and nature walkers the ideal recreational conditions. Close to the monument commemorating the events of the Goriška Front on St. Ot is a short woodland nature trail (250 m). Here visitors will come across sixteen different tree species, all of which are marked with rectangular wooden signs.
---
This trail can be found on the north-eastern side of Vrtojba. The starting point area is well-organised and has an information board with a map showing the routes. The first of sixteen information boards with workout instructions can also be found here. The others are spread out along the rest of the trail, some of which have trim trail apparatus. The route is well signposted.
---
Both the woodland paths and the paths among the vineyards of the Vrtojba-Bilje knolls are ideal for cycling. This could be purely for recreational purposes, or you could be taking part in some sort of (international) competition in our municipality. 
---
Climbing Wall DEŠ

Location (map):
Ulica Andreja Gabrščka 1
5290 Šempeter pri Gorici
GPS: E13.63918, N45.92767
Contact:
Andrej Čotar
                                            GSM: + 386 41 683 803
The climbing wall, located at the Ivan Rob Primary School, is the largest in Slovenia. It is roughly divided into four sections of varying difficulty. It is not only suitable for beginners, but also for the more experienced climbers. The maximum height for climbing is eight metres. The wall covers an area of 1,000 m2 and has more than 8,000 climbing holds of all sizes and styles. Over 60 anchorage points have been installed for the safety of the climbers. This activity is available all year round.


---

Location
In the vicinity of Šempeter railway station
GPS: N45.927702, E13.646957

Contact:
E-mail: lkgorica @ gmail.com

Archery is an interesting sport which combines physical strength and mental stability. It helps archers boost their self control, study natural laws and learn how to adjust their equipment (bows, arrows and additional equipment) to reach its optimal performance.
In summer and during the greater part of the season, archery trainings take place outdoors, at the summer archery range in Šempeter near the railway station. There are 10 differents targets at various distances. The targets at the outdoor archery range are set for target archery.

In winter time, archery activities are carried out indoors, at the sports centre.
 
---

Location
Mednarodni mejni prehod Vrtojba (Vrtojba International border crossing)
GPS:
E13.622935, N45.918355
Circuit layout
Contact:
GSM:
+ 386 41 38 60 86 Tomaž

GSM:
+ 386 40 36 40 93 Vasja
E-mail:
info @ drustvo-gas.si
GAS Vrtejba Kart circuit is situated in Vrtojba, at the frontier with Italy, on the former Vrtojba International Border Crossing. The circuit, which was built in 2007 and later modified and completed, meets international standards (B category) and national standards ( AŠ-2005 PRK for parallel rallycross, AMZS-Šport for karting, minimoto and scooter competitions). The length of the track is 800 m, its width is 10 m and it has 9 curves, 5 to the right and 4 to the left.
Cup and international competitions as well as many other events are organised all year round. Adrenaline lovers can choose from a wide range of kart hire options including karts suitable for children. All our karts are equipped to conform to safety standards to enable a safe and enjoyable ride.