Cultural sights

We can offer a few culturally interesting sights to the tourists on a limited number of locations, as most of the historically interesting buildings and structures were completely destroyed during World War One.
Vrtojba
GPS:
E13.635323, N45.911568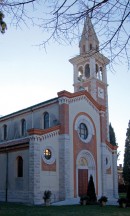 The Sacred Heart of Jesus Parish Church, which was built between World War 1 and World War 2, is worth a visit. The church was erected in the centre of Vrtojba between 1924 and 1925. It was built in the Neo-Romanesque style by A Radovič and under the supervision of
Maks Fabiani
(1865-1962). The church was consecrated on 13th December 1925 by Frančišek Borgia Sedej and the belfry, in the Aquilean style, was completed a year later.
The extension on the north side of the presbytery was transformed into the St. John the Baptist Chapel in 1983. Also worth a mention is the Scared Heart triptych, which was painted in 1956 by Tone Kralj (1900-1975). Several more of the artist's paintings and frescoes can also be found in the church.
---
Decades ago, in the Vrtojba area, the local residents used to pump drinking water from more than fifty wells, known as "p'či" in the local dialect. Today they have a unique value and are of particular interest. Some of them have remained unchanged with time, while others have been renovated. Unfortunately, the water in most of the wells is no longer potable.



Renato Podbersič: A guide to the watter wells of Vrtojba (.pdf 3.9MB)
---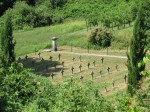 Hidden among vineyards is a tranquil Austrian cemetery from World War One. The cemetery, with more than one hundred crosses scattered around, is sheltered by the surrounding green vines. On a hot day you can take a welcome short break in the shade of two mighty oak trees that adorn the graveyard.
---
GPS:
E13.617262, N45.908017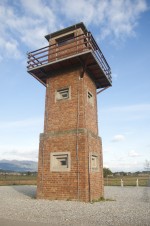 The smallest museum in Slovenia can be found in the former military watchtower. The eight metre high tower was built in Vrtojba in 1948, near the former Italian – Yugoslav border, by the Yugoslav People's army. From the end of the Second World War up until 1991 the soldiers used it to keep strict control over the border. It is one of the many silent witnesses to post-war history.